To improve upper-body strength for canoeing, use strength exercises supersetted with endurance exercises. This will help prepare the upper body for the strength and endurance necessary to canoeing. Use the following training variables: 2-4 supersets of 8-12 repetitions using a medium tempo for the strength exercise and a slow tempo for the stabilization exercise. Rest for 45 seconds after completing both exercises of the superset. Example exercises are low cable rows supersetted with standing cobra followed by close-grip dumbbell chest press supersetted with supine triceps extension on a stability ball. To per form the standing cobra, hold dumbbells with the thumbs rotated up and away from the body. Activate the core by drawing-in the stomach, bend forward about 45 degrees, and keep the head in a neutral position. Pull the dumbbells back and hold; the arms should be straight as you try to squeeze the shoulder blades back and down. Return to the starting position and then repeat. To perform a supine triceps extensions on a stability ball, lie down with your back on a stability ball. The ball should support your head and shoulders. Bridge the hips up so your back is flat and engage the core by drawing-in the stomach and contracting the glutes and abs. Hold the dumbbells with the arms straight in a neutral grip (hands facing each other) then slowly lower the dumbbells by bending only the elbow joint until the forearm is parallel to the ground. Hold in the bottom position and the return to the starting point.

Continue Learning about Watersports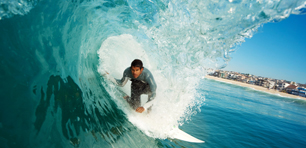 Watersports (surfing, rowing, canoeing) rely on muscular strength, endurance, and resistance training. Conditioning is important because these sports cause the body to expend a vast amount of energy. Watersports help burn calories ...
and improve cardio strength.
More