To build muscle endurance for canoeing, use a strength exercise in a stable position supersetted (no rest) with endurance exercise in an unstable position. Use the following acute variables: 2-4 sets of 8-12 repetitions using supersets of a strength exercise done with a medium tempo follow by a stabilization exercise done with a slow tempo. Rest for 30 seconds after completing the superset. An upper body circuit workout could include 3 sets of 10 repetitions of the dumbbell bench press supersetted with 10 repetitions of stability ball push-ups followed by 3 sets of 10 repetitions of seated cable rows supersetted with 10 repetitions of single-arm, single-leg dumbbell rows. To perform stability ball push-ups, place the hands with the fingers pointing down on a stability ball and perform traditional push-ups. Make sure to activate the core by drawing-in the stomach to the spine. To perform single-arm, single-leg dumbbell rows, stand on one leg with the other foot lifted and floating. Bend over until the back is parallel to the ground and hold a dumbbell on the same side as the leg that is lifted. Activate the core and pull the dumbbell into the lower chest area. Use the floating foot to reestablish balance if necessary.

Continue Learning about Watersports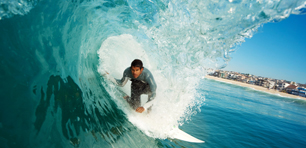 Watersports (surfing, rowing, canoeing) rely on muscular strength, endurance, and resistance training. Conditioning is important because these sports cause the body to expend a vast amount of energy. Watersports help burn calories ...
and improve cardio strength.
More