If you're dumped off a boogie board or forced head-first toward the bottom while bodysurfing, avoid a dislocated shoulder or a head, neck, or spine injury with basic beach safety. While riding the waves, keep your arms in front of your head. If you mistakenly float into intense wave-crashing areas, duck under breaking waves.
Continue Learning about Watersports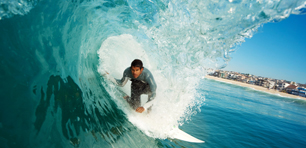 Watersports (surfing, rowing, canoeing) rely on muscular strength, endurance, and resistance training. Conditioning is important because these sports cause the body to expend a vast amount of energy. Watersports help burn calories ...
and improve cardio strength.
More