To improve strength for wind surfing, use strength exercises supersetted with stabilization exercises to simulate the physical demands of wind surfing. Use the following acute variables when performing this type of training: 2-4 supersets of 8-12 repetitions using a medium tempo for the strength exercise and a slow tempo for the stabilzation exercise. Rest for 45 seconds after completing each superset. Example superset exercises include bar squats supersetted with walking lunges and pull-ups supersetted with standing rear deltoid dumbbell flyes.

Continue Learning about Watersports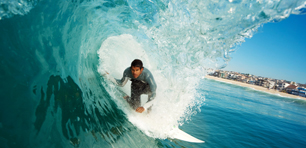 Watersports (surfing, rowing, canoeing) rely on muscular strength, endurance, and resistance training. Conditioning is important because these sports cause the body to expend a vast amount of energy. Watersports help burn calories ...
and improve cardio strength.
More