To train grip strength you have to work on forearm muscle strength endurance by holding weight for time and making the grip more challenging in other exercises. Grip strength requires using isometric exercises for the grip such as holding a heavy dumbbell for a set amount of time. Start with 30 seconds and increase the time up to 120 seconds for 2-5 sets. Rest for 30-60 seconds between sets. To make the grip more challenging in other execises, try using a towel to hold on to the bar during pull-ups. Complete for 2-5 sets of 6-10 medium tempo repetitions and rest for 60 seconds between sets. Doing these type of exercises should help improve grip strength and grip endurance.

Continue Learning about Watersports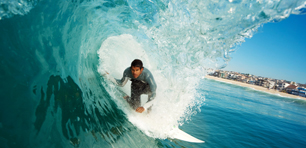 Watersports (surfing, rowing, canoeing) rely on muscular strength, endurance, and resistance training. Conditioning is important because these sports cause the body to expend a vast amount of energy. Watersports help burn calories ...
and improve cardio strength.
More