To improve leg strength for surfing, use strength endurance training to work on the strength and stabilization of the ankles, knees, and hips since this is an important component of any board sport. When doing this type of strength training, use the following acute variables: 2-4 supersets of 8-12 repetitions at a medium tempo for the strength exercise and a slow tempo for the stabilization exercise. Use light weights and only rest for 30 seconds between sets. An exercise example for this type of resistance training is bar squats supersetted with single-leg squats, followed by seated leg curls supersetted with single-leg Romanian deadlifts. To perform single-leg squats, stand on one leg with the other foot lifted and floating next to the foot on the ground. Engage the core by drawing-in the stomach and perform a squat movement with one leg. Be sure to keep the back flat, the foot straight, and the knee over the point of your shoe. If you lose your balance, touch the lifted foot on the ground reestablish your balance. To perform the single-leg Romanian deadlift, stand on one leg with the other foot lifted and floating next to the foot on the ground. Slowly bend at the hip and reach toward the foot on the ground, pause, and slowing return to a standing position. You can make the strength exercises more difficult by adding more weight, or increasing the load. You can make the stabilization exercises more difficult by standing on a half foam roll, using an airex pad, or standing on a dyna disc. By doing these exercises you can improve the muscle, tendon, and ligament strength of the legs.
Continue Learning about Watersports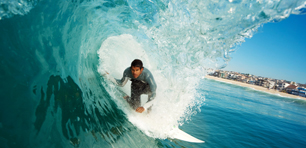 Watersports (surfing, rowing, canoeing) rely on muscular strength, endurance, and resistance training. Conditioning is important because these sports cause the body to expend a vast amount of energy. Watersports help burn calories ...
and improve cardio strength.
More