In order for you to get fast, you must simply train fast. Therefore, if your actual rowing motion is performed at a fast tempo, and the motion you are trying to get fast at looks similar to the rowing motion, then absolutely. I also suggest performing stable strength movements such as a traditional pushup, followed immediately by a similar movement such as an explosive tube chest press (attach resistance tube to a post) as fast as possible. You may perform the strength movement for approximately five reps and the explosive power movement for ten reps. You may perform three to five total sets per combination of exercises. Introducing both modes I have suggested for four to six weeks will undoubtedly leave you with speedy upper body movement.
Continue Learning about Watersports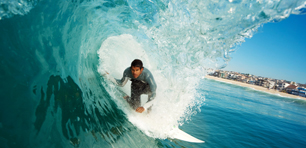 Watersports (surfing, rowing, canoeing) rely on muscular strength, endurance, and resistance training. Conditioning is important because these sports cause the body to expend a vast amount of energy. Watersports help burn calories ...
and improve cardio strength.
More