Absolutely! However, remember that when the goal is endurance you must introduce the appropriate intensities throughout your training time line. For example if you have 20 minutes to row, I suggest interval training. Beginning on a rower, start at a light level (65% of max heart rate) for five minutes, followed by increasing the speed and/ or incline to a higher level (80% of max heart rate) for 2-3 minutes, finishing at a peak level (85-90% of max heart rate) for one minute then reducing the speed/ resistance back to the starting level. Repeat this rowing circuit for the allotted 20 minutes. Performing these higher intensity levels, along with the lower levels will not only help improve your cardiovascular endurance, it will teach the muscles to go longer without building up unwanted lactic acid. This will all lead to improved performance and increased calorie expenditure.

Continue Learning about Watersports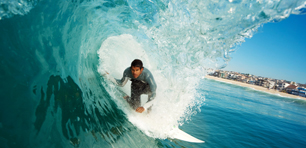 Watersports (surfing, rowing, canoeing) rely on muscular strength, endurance, and resistance training. Conditioning is important because these sports cause the body to expend a vast amount of energy. Watersports help burn calories ...
and improve cardio strength.
More