Water is essential to the human body for many reasons. According to the Advanced Nutrition and Human Metabolism textbook, water is the most abundant constituent of the human body, accounting for roughly 60% of the total body weight in an adult.

The human body simply could not function without water. It acts as a medium for the transport of compounds from the blood to the cells and vice versa. Water also makes up part of our plasma, which is an important component of blood. Additionally, water aids many processes that are carried out in the intracellular and extracellular compartments of the body.

Since the body only forms a small amount of water each day, (as a product of metabolic reactions) it is essential that it receives adequate amounts of water each day from an external source. This means that most of the water our bodies require must come from our food and drink. It is typically recommended that you consume 64oz of water per day. I personally feel that this a conservative recommendation, especially for active individuals.

Daily water needs will also change depending eating and drinking habits. For example, diets that are high in sodium or that contain high levels of caffeine will require more water per day than usual. It is said that when you feel thirsty, you are already dehydrated. This is something you definitely want to avoid because it can affect both your mental and physical performance, even if you are only slightly dehydrated! So keep a nalgene or water bottle on hand drink from it consistently though out the day. Focus on replacing your soft drinks other sugary drinks with pure h20, your body will thank you for it!

Groff, J. & Gropper, S. & Smith, J. (2005). Advanced Nutrition and Human Metabolism. 4th ed. California: Peter Marshall. 501-503.
Water is essential for life. The average amount of water in your body is about 10 gallons. You need to drink at least 48 ounces of water per day to replace the water that is lost through urination, sweat, and breathing. If you don't, you are likely to become dehydrated. That means drinking at least six to eight glasses of water (48 to 64 ounces) each day, though eight to twelve glasses is optimal. Thus, you must drink a glass of water every two hours while you are awake. Don't wait until you're thirsty; schedule regular water breaks throughout the day instead. Even mild dehydration results in impaired physiological and performance responses.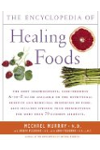 More About this Book
Encyclopedia of Healing Foods
From the bestselling authors of The Encyclopedia of Natural Medicine, the most comprehensive and practical guide available to the nutritional benefits and medicinal properties of virtually everything...
Continue Learning about Water