The best times to drink water are first thing in the morning, as well as 30 minutes before a meal and just before bedtime. In this video, nutrition & fitness expert JJ Virgin explains what time of day is best to consume the most water.
People still cling to old wives' tales that would have you believe that it is best not to drink at mealtimes to avoid food's trapping the water. Not only does this idea have no physiological basis, in many cases it makes things worse. Not drinking while you eat, at a time when you naturally get thirsty and when drinking is so easy and enjoyable, may result in your suppressing your thirst. Then, when you are busy later on with your daily activities, you may forget to drink water for the rest of the day.

During the Dukan Diet and especially during the alternating proteins phase, except in cases of exceptional water retention caused by hormonal or kidney problems, it is absolutely essential to drink 1½ quarts of water a day. If possible, drink mineral water, or take it in any other liquid form such as tea, herbal tea, or coffee.

Have a cup of tea at breakfast, a large glass of water midmorning, 2 more glasses and a coffee at lunch, 1 glass during the afternoon, and 2 glasses with dinner and you have easily downed 2 quarts. Many patients have told me that in order to drink when they were not thirsty, they got into the habit of drinking directly from the bottle, and this worked better for them.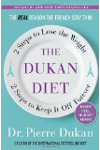 Continue Learning about Water
Plenty of water in your diet helps digestion, skin, and muscle tone. It can help prevent cramping during exercise and even relive stress. Many times we are low on water - dehydrated, and don't realize it. Being dehydrated can mani...
fest with symptoms like fatigue and depression. In fact, by the time we are feeling thirsty, we're already slightly dehydrated. That's one reason that we hear the recommendation to drink eight standard glasses of water daily. Adequate water helps you digest food an helps your body get rid of wastes. Your kidneys need to process water for you to eliminate waste by urination, and getting enough water ensures that these wastes are diluted. Not getting enough water can encourage the formation of painful kidney stones.
More