Some common myths about how much water you should drink include:
You only need to drink 3-5 beverages each day, unless you're exercising heavily.
People who drink 8-10 beverages a day put an unnecessary strain on their kidneys.
It's okay to be mildly dehydrated, as long as you still urinate a couple of times a day.
Restricting water is a great way to drop several pounds in a few days.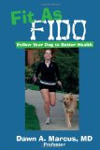 More About this Book
Fit As Fido: Follow Your Dog to Better Health
Let your dog teach you to live a happier, healthier, and more fulfilling life! Companionship with your pet can be used as a means and a motivator to increase your own physical and mental fitness....
Continue Learning about Water