Although there are hundreds of brands of home water filters, they all rely on a small number of technologies to remove contaminants. That does not mean that every filter that uses a given technology is as good as another, but it does mean that you can get a good idea of the general pros and cons of the different systems relatively easily.
A few tips to keep in mind:
Some filters use a combination of technologies, while others rely on just one.
To ensure that a filter removes a particular contaminant, verify that it is certified for that contaminant by a reputable, independent agency. For example, some carbon filters can remove chloramine but others cannot. Filters vary widely in quality.
Some filters are labeled "NSF certified." NSF is a reputable product evaluation company, but its certifications are not all the same. It may certify that a filter will improve water's taste and odor but not necessarily guarantee that it will remove any specific contaminants. Read the fine print.
To choose an appropriate home water filtration system, you should have your water analyzed by a water professional. While their goal may be to sell you their brand of filtration system, they will provide you with insight into what is in your water supply and filters will be effective in reducing or eliminating these contaminants.

You may also want to check with the university system in your state to determine if they offer a water analysis service for low cost.
In an effort to reduce the exposure to toxic compounds such as PCBs, pesticide residues, nitrates, and heavy metals such as lead, mercury, and cadmium in the normal home water supply, roughly two million home water filtration units are purchased annually. The best home filtration unit depends on the predominant toxin. For example, if the primary toxin is lead, a carbon filter provides very little benefit. This is significant since carbon filters are the most popular water purification units sold. To determine the safety of your tap or well water, contact your local water company.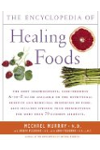 More About this Book
Encyclopedia of Healing Foods
From the bestselling authors of The Encyclopedia of Natural Medicine, the most comprehensive and practical guide available to the nutritional benefits and medicinal properties of virtually everything...
Continue Learning about Water
Plenty of water in your diet helps digestion, skin, and muscle tone. It can help prevent cramping during exercise and even relive stress. Many times we are low on water - dehydrated, and don't realize it. Being dehydrated can mani...
fest with symptoms like fatigue and depression. In fact, by the time we are feeling thirsty, we're already slightly dehydrated. That's one reason that we hear the recommendation to drink eight standard glasses of water daily. Adequate water helps you digest food an helps your body get rid of wastes. Your kidneys need to process water for you to eliminate waste by urination, and getting enough water ensures that these wastes are diluted. Not getting enough water can encourage the formation of painful kidney stones.
More