Take a moment to notice if your mouth or lips are dry. Most of you will find that they are dry. If so, you are dehydrated and need to drink more water. Although it is not unusual for those of us under stress to require a gallon of water a day, I do not recommend counting the number of glasses of water that you drink per day because this can get old fairly quickly. Simply notice if your mouth or lips are dry and drink water when they are. I like to keep a glass or bottle of good quality water with me.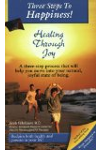 More About this Book
Three Steps to Happiness! Healing Through Joy
Happiness is our natural state of being. It is who we are. This happiness is obvious when you look at little children before they take on society's beliefs. Their natural state is to feel all of...
Continue Learning about Water & The Body