Benefits are immediate! Having a dog is similar to having a best friend; they will always be there for you. Being a dog owner will be a responsibility that is worth having. One of your biggest requirements will be to keep them active which will help keep them healthy and you will increase your health as well. The more active you are the healthier you will be. This increased health will lead the longer and happy life and much of this will be a result of your new best friend.
Medical research shows that becoming a new dog owner results in both immediate and long-lasting health improvements. In a fascinating study, Dr. Serpell at the Department of Clinical Veterinary Medicine in Cambridge evaluated new pet owners and people without pets. While there was no change in minor health problems over six months among non-pet owners, dog owners experienced a 50 percent decrease in minor health problems after just one month of ownership. This benefit was maintained after six months. Interestingly, dog owners experienced a greater degree of health improvement than cat owners, and the benefits with dogs lasted longer than those seen with cats. Dog owners also experienced an increase in physical activity. On average, both future dog owners and non-pet owners walked an average of twice per week at the start of the study. This number decreased slightly over six months in the non-pet owners. After signing up with their four-legged trainers, dog owners experienced a substantial increase in the number of walks per week to nine per week after the first month and fourteen per week after six months.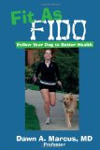 More About this Book
Fit As Fido: Follow Your Dog to Better Health
Let your dog teach you to live a happier, healthier, and more fulfilling life! Companionship with your pet can be used as a means and a motivator to increase your own physical and mental fitness....
Continue Learning about Walking

Walking provides many health benefits. It can help you lose weight, get fit, boost mood and more. Learn tips from Sharecare experts on how to safely incorporate walking into your daily routine.