Owning a dog will improve your heart health by requiring you to walk your best friend daily and get regular exercise. Dog owners also report less stress and greater feelings of well-being which reduces the risk of heart disease. Experts recommend that people engage in 60 minutes of moderate activity exercise most days of the week. If you take your dog for a walk each day and interact with it daily this will increase your fitness level and improve your and your best friends' health.
A survey of the population in New South Wales concluded that dog walking could provide substantial benefits for reducing heart disease. Researchers predicted that if all dog owners began walking their dogs for 150 minutes per week, the overall population risk of heart disease would decrease by almost ten percent.

Dog owners tend to have healthier hearts with lower blood pressure and heart rates compared to non-owners. In one comparison of risk factors for heart disease between pet owners and non-owners, both blood pressure and plasma triglycerides were decreased in the pet owners. Triglycerides are a type of fat in your bloodstream. Like cholesterol, high triglyceride levels also contribute to increased risk for heart disease. The authors speculated that better eating habits and exercise levels may have contributed to some of the lower heart disease risk factors among pet owners.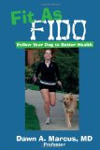 More About this Book
Fit As Fido: Follow Your Dog to Better Health
Let your dog teach you to live a happier, healthier, and more fulfilling life! Companionship with your pet can be used as a means and a motivator to increase your own physical and mental fitness....
Continue Learning about Walking

Walking provides many health benefits. It can help you lose weight, get fit, boost mood and more. Learn tips from Sharecare experts on how to safely incorporate walking into your daily routine.