You can take your dog for a walk as a form of exercise. If you can't find time take three short 10-minute walks with your dog each day, you're too busy and you need to streamline your routine. Look at ways to simplify your life and avoid over-scheduling yourself.
Remember you're not responsible for everyone's happiness and needs. Don't try to rescue your family members or friends from every difficult or frustrating situation. Facing adversity builds character. So give them emotional support, then back off and let them struggle to find solutions and succeed. When Junior's working on his English paper, don't hover behind him giving suggestions. Take Duke for a walk. When you come back, help proofread the paper. Junior's learned more and you got in a walk.
Ask family members to help with household chores. Ask sister to fold the laundry while you and your toddler walk the dog. When you're out walking, you won't have to watch her roll her eyes and hear her complain about how unfair you are. And when you come back, a chore will be checked off your list and you were able to walk.
Only volunteer for one or two activities. You don't need to do it all.
Break big projects down into several smaller tasks. Tackle one small task at a time.
Keep regular meal times. And never eat on the run.
Keep regular sleep times. Don't stay up late finishing chores; they'll wait until morning.
Avoid excess caffeine, alcohol, and nicotine.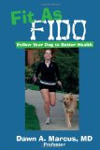 More About this Book
Fit As Fido: Follow Your Dog to Better Health
Let your dog teach you to live a happier, healthier, and more fulfilling life! Companionship with your pet can be used as a means and a motivator to increase your own physical and mental fitness....
Making time for yourself and your best is about making it a priority. Schedule in like you would, work, school, or doing chores around the house. By making it a priority that has to be accomplished each day you can make the time you need to take your best friend for a walk each day that will provide many health benefits for both and give you quality time with him.
Continue Learning about Walking