Make sure you vary your walk location to help keep walks interesting for you. If you usually turn right when you leave the house, try turning left instead. Look for nearby areas that provide greater physical challenges, like hills, ruts to jump over, and tree branches to dunk under, to help change the intensity of your outings and engage different muscle groups in exercise.

Change the tempo of your walks. Every walk doesn't need to be at the same pace and don't be afraid to change pace during an individual walk. If you take your dog to a leash-free dog park, you'll notice that he doesn't exercise like a human. Humans will do a short warm-up, then jog or power walk for most of their exercise time, and maybe follow this with a short cool down. Dogs, on the other hand, will do some stretches, warm up with a slow walk, and then intermix bursts of running and slow walking. Try this on your walks with your dog. After walking for a few minutes, ask your dog to hurry up and run alongside you as you jog. A few minutes later, slow back to a walk. Mix in some skipping or jumping along the way. When you come to a curb or crack in the sidewalk, leap over it. Your dog will love it and you'll get better exercise than just walking at the same pace.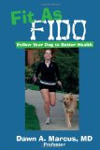 More About this Book
Fit As Fido: Follow Your Dog to Better Health
Let your dog teach you to live a happier, healthier, and more fulfilling life! Companionship with your pet can be used as a means and a motivator to increase your own physical and mental fitness....
Walking has many ways in which to make it more interesting and keep you motivated
Do it because you know the benefits of activity outweigh not being active

Add strength training such as walking lunges, squats, push-ups, and pull-up
Find music that will motivate you
Sign up for an event that will push you to stick to a training regimen
Setup a walking calendar listing days you MUST walk
Walk with a neighbor or friend, this will help keep your motivated
Find different routes to go
Most of all do it for you! Being active will help lead to a healthy lifestyle and a life worth living!
I love to walk. The way that I make my walk more interesting is to find different places to walk. First I decide how far I want to go and then I find a beautiful walk that will fit the distance. If there is a park with a sidewalk or trail that I like and it is relatively short I just walk it multiple times.
The key is to find an area that is safe and fits the degree of difficulty that you are looking for. It may be that you find a hill to walk up and down or a flat area that is relatively easy and allows you to walk with some speed.
Music can also help to make things fun and if you listen to fast music then you actually may be able to walk faster than you usually do. Some people also walk further and faster when they walk with other people.
The key is to make the walk fun and interesting so that you want to keep doing it.
Continue Learning about Walking