According to the most current public health guidelines on physical activity, the 2008 Physical Activity Guidelines for Americans, for health benefits, you should accumulate 2 hours and 30 minutes (150 minutes) of moderate-intensity aerobic activity (i.e., brisk walking) every week. In other words, walking your dog 30 minutes five days a week will help you improve your health and prevent chronic disease (diabetes, heart disease etc.).
Less than half of Americans get an adequate amount of exercise to achieve good health benefits. The estimated total time for dog walking to achieve health benefits is about 45 minutes per day. Walking this amount daily will reduce your risk of dying by 20 to 30 percent.

The best way to make sure you achieve your daily walking target is to take daily walks with your dog. The other benefit to walking every day is that the walking becomes a regular part of your schedule, like brushing your teeth, so it's easier to make sure you follow through.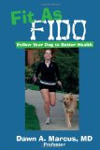 More About this Book
Fit As Fido: Follow Your Dog to Better Health
Let your dog teach you to live a happier, healthier, and more fulfilling life! Companionship with your pet can be used as a means and a motivator to increase your own physical and mental fitness....
Continue Learning about Walking

Walking provides many health benefits. It can help you lose weight, get fit, boost mood and more. Learn tips from Sharecare experts on how to safely incorporate walking into your daily routine.