Owning a dog can help reduce stress due to the activity that is needed to keep your dog healthy. The more active you are the less your heart will be stressed with everyday activities. Dog's are great companions because no matter what you do, they will stand by you and support you. This will help reduce stress on your heart because no matter what the circumstance, you can always depend on your dog to support you through good and bad.
Dogs do more to help reduce stress on our hearts than just encourage us to get more active. In a unique experiment, 120 healthy adults were put into stressful situations with both mental stress from doing math calculations and physical stress. Researchers measured heart response to stress by monitoring increased heart rate and blood pressure. Increases in heart rate and blood pressure show that the mental or physical stress is also causing stress on the heart. For both pet owners and non-pet owners, having their spouse or a supportive friend with them during the math test actually made their stress response worse. Having their pet with them during math calculations significantly decreased their stress response. Pet owners also made fewer errors in math calculations when their pet was in the room. The heart's response to physical stress was similarly improved in pet owners by having a pet nearby. This response was also better with a pet than with a spouse or supportive friend.

So the next time you need to balance your checkbook, talk with your teenager, or have dinner with your mother-in-law, make sure you have a four-legged friend nearby to help ease your stress level and help your heart.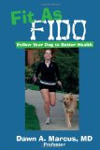 More About this Book
Fit As Fido: Follow Your Dog to Better Health
Let your dog teach you to live a happier, healthier, and more fulfilling life! Companionship with your pet can be used as a means and a motivator to increase your own physical and mental fitness....
Continue Learning about Walking

Walking provides many health benefits. It can help you lose weight, get fit, boost mood and more. Learn tips from Sharecare experts on how to safely incorporate walking into your daily routine.