Yes, studies show that dog owners are more active and healthier than non-dog owners. Playing with your dog and taking them for a walk on a regular basis is a good form of physical activity that will help you become more fit and improve your health and well-being
For sure! A study from the University of Missouri-Columbia found that people who walked 20 minutes a day, 5 days a week with their dog lost an average of 14 pounds in a year. There is a correlation between owning a dog and being more active because you feel obligated to take care of the health of your pet which also helps you to be healthier.
A Canadian report showed that dog owners were considerably more physically active than non-owners. Dog owners walked nearly twice as much as non-owners. An obligation to care for their dogs was frequently cited as the motivation that allowed them to achieve this greater level of physical activity.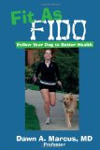 More About this Book
Fit As Fido: Follow Your Dog to Better Health
Let your dog teach you to live a happier, healthier, and more fulfilling life! Companionship with your pet can be used as a means and a motivator to increase your own physical and mental fitness....
Continue Learning about Walking