To make a walking program work for you:
Measure your walks in minutes, not miles or steps
Look for safe routes with hills
Keep an area of walking gear ready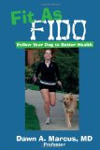 More About this Book
Fit As Fido: Follow Your Dog to Better Health
Let your dog teach you to live a happier, healthier, and more fulfilling life! Companionship with your pet can be used as a means and a motivator to increase your own physical and mental fitness....
In order to be successful you must set a goal. Walking for enjoyment is great but if walking to keep yourself active then you must do so with an incentive. Maybe your goal will be to walk 10,000 steps everyday. Maybe you want to be able to walk a certain amount of miles in a certain amount of time. Consider signing up for a charity event or race of some sort.
Ways to help make this successful created a walking log and a walking calendar. These two items will help you log your daily walks and chart your walks so you have a set amount to complete.
Continue Learning about Walking Programs