Performance tests such as a shark skill test along with a vertical jump test is suggested. The shark skill test is a great assessment for multiple plane movement, coordination and balance. Use colored duct tape to measure a 3x3, nine-squared area on a soft surface. Each box should measure one foot in length and width. The athlete begins in the center of a nine-square box followed by hopping with both feet in a left-to-right pattern. The test may also be done with a single-foot hop. A vertical jump test may be performed by simply holding a piece of tape, and then performing the jump while slapping the tape on a wall. Once completed you may measure the distance from the ground to the tape.
Continue Learning about Volleyball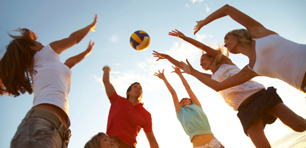 Volleyball is a team sport that involves cardiovascular endurance, agility, and hand-eye-coordination. Lateral movements, foot speed, and hip rotation are all important skills to possess. Proper elbow and knee-pads can help limit ...
injuries.
More