Many volleyball players wear ankle braces as a preventative measure. No matter what age group or experience level, because of the amount of jumping and often awkward landing involved in the sport, extra support is normally beneficial. Although there may be some negative effects on ankle strength, those minor weaknesses can be taken care of with basic ankle strengthening exercises. Overall, ankle braces assist in ankle support and do a lot for injury prevention. (This answer provided for NATA by the Saint Louis University Athletic Training Education Program.)
No, all volleyball players should not wear ankle braces. Braces and tape should only be used when there has been an injury and the joint needs the additional support. When joints rely on braces or tape for protection, they actually tend to become weaker. When given the opportunity to strengthen through normal usage, the musculotendinous fibers become stronger and can protect the area without the use of a brace or tape.
Continue Learning about Volleyball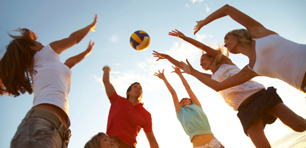 Volleyball is a team sport that involves cardiovascular endurance, agility, and hand-eye-coordination. Lateral movements, foot speed, and hip rotation are all important skills to possess. Proper elbow and knee-pads can help limit ...
injuries.
More