Depending on what stage of the volleyball season you are in you should perform strength and conditioning exercises two to three days per week. Based on the intensity of your workouts, ample rest and recovery is needed to produce the desired results, so plan for 24-48 hours of recovery. A well-designed program includes foam rolling, static stretching (if desired), and dynamic warm-up followed by core, stability, and strength exercises.
Continue Learning about Volleyball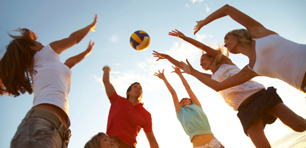 Volleyball is a team sport that involves cardiovascular endurance, agility, and hand-eye-coordination. Lateral movements, foot speed, and hip rotation are all important skills to possess. Proper elbow and knee-pads can help limit ...
injuries.
More