There are a few things you can try to gain more control during passing in volleyball. Prior to performing control-specific drill, work on core stabilization exercises. Improving the efficiency of the deep core muscles will allow you more control and stability at the hips. This will also help with postural control allowing better shock absorption which will help you with placement of the volleyball. Once you have achieved optimum core and hip control you are ready to progress to control-specific drills. Try a single-leg pass rebound while standing on a balance disc. Begin performing this drill by standing two to three feet from a wall and placing one foot on a balance disc or wobble board. Balancing on a single leg, begin passing a volleyball against the wall and rebounding it as many times as possible. You can have a coach or teammate measure how long you can perform the drill without losing your balance or control of the ball. Switch roles with your teammate and make a fun and competitive game out of the drill. Four to six weeks of practicing this drill will help make a lack of ball control seem like a distant memory.
Continue Learning about Volleyball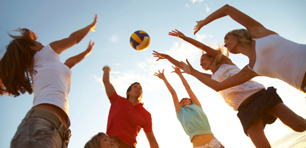 Volleyball is a team sport that involves cardiovascular endurance, agility, and hand-eye-coordination. Lateral movements, foot speed, and hip rotation are all important skills to possess. Proper elbow and knee-pads can help limit ...
injuries.
More