Vision training in sports such as volleyball, baseball, basketball, and rugby has become very popular. Our vision has an enormous amount of influence over our posture, center of gravity, as well as small movements such as tying our shoes and larger movements such as running and jumping. Taking that and the fact that volleyball requires a lot of hand-eye coordination into consideration, leads one to believe that vision training may have great influence on placement control during your hitting. One exercise to try is often called "Richardson fly on the wall." Begin this drill by facing a blank wall and getting in an athletic position. Have a teammate or performance specialist stand off to the side or behind you and shine a laser pointer light onto random spots on the wall at two to three second intervals. As soon as you see the light, touch it swiftly with your hand, alternating sides with each time the light appears. You can also stand on one leg to increase the difficulty of the drill.

Continue Learning about Volleyball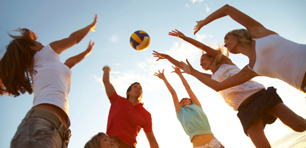 Volleyball is a team sport that involves cardiovascular endurance, agility, and hand-eye-coordination. Lateral movements, foot speed, and hip rotation are all important skills to possess. Proper elbow and knee-pads can help limit ...
injuries.
More