In volleyball, upper-body strength is important and the upper-body ergometer is a good way to promote strength as well as endurance; however, it should not be the main focus of the training. It is a good piece to put into a circuit or to supplement some cardiovascular training if the legs are starting to fatigue. Since footwork and leg strength are important for the power movements in volleyball, a lot of the conditioning will be done on the court. Cardiovascular programs should include some one minute intervals to build the anaerobic threshold as well as short burst or plyometic drills that will overload the legs as well as the cardiovascular system.

Continue Learning about Volleyball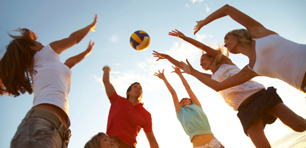 Volleyball is a team sport that involves cardiovascular endurance, agility, and hand-eye-coordination. Lateral movements, foot speed, and hip rotation are all important skills to possess. Proper elbow and knee-pads can help limit ...
injuries.
More