When implementing any sport-specific training program it is extremely important to make sure the program is individualized, goal-specific, progressive, and uses appropriate repetitions, numbers of sets, and tempos in order to avoid injury and optimize success. Paying close attention to those variables will allow you to achieve success both in the gym as well as on the court.
Continue Learning about Volleyball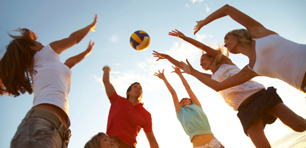 Volleyball is a team sport that involves cardiovascular endurance, agility, and hand-eye-coordination. Lateral movements, foot speed, and hip rotation are all important skills to possess. Proper elbow and knee-pads can help limit ...
injuries.
More