What you have to remember is your core is like any other muscle group and needs a chance to rest and repair after a workout. So you would probably want to do your core only about 3 times per week. Also listen to your body as well as you may need more days to recover based on how hard you work your core.
Perform core exercises such as planks, bridges, supermans, and crunches three days per week using slow tempos. These movements will ensure that you maintain optimum control over the trunk and hips which will allow you to generate and transfer power to your arms and legs more efficiently. This will result in a more controlled, stronger, and more explosive volleyball serve.
Continue Learning about Volleyball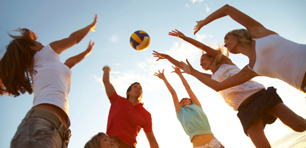 Volleyball is a team sport that involves cardiovascular endurance, agility, and hand-eye-coordination. Lateral movements, foot speed, and hip rotation are all important skills to possess. Proper elbow and knee-pads can help limit ...
injuries.
More