Yes. VO2 testing (volume of oxygen) is the best way to really get an idea as to what kind of shape you are in for playing volleyball. There are many great systems out there to test this physiologic capacity. VO2 testing is generally performed on a treadmill. Prior to the test, the specialist will put a cap and oxygen mask (very comfortable) around your head and mouth. You will begin by walking for the first minute followed by a jog, then a sprint until near maximum effort is reached. The data is collected then used to create your training protocols. The specialist will then use the software to design your programs as well as instruct you how to use training zones effectively in order to improve your performance. Remember, you can't improve upon what you can't measure.
Continue Learning about Volleyball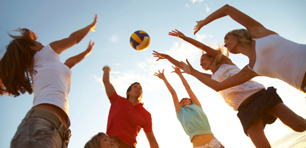 Volleyball is a team sport that involves cardiovascular endurance, agility, and hand-eye-coordination. Lateral movements, foot speed, and hip rotation are all important skills to possess. Proper elbow and knee-pads can help limit ...
injuries.
More