The length of time between volleyball matches will dictate your recovery and preparation routine. During short durations prior to the match spend five minutes performing a light dynamic warm-up using exercises including, but not limited to, lateral lunges, front lunges, rotational lunges, and arm circles. This routine should take you twenty-five minutes. If you have closer to sixty minutes between matches, you should perform the same sequences as described above, but allow yourself more time. Take fifteen minutes to complete some light foam rolling prior to the dynamic warm-up. Foam roll any areas of discomfort or tightness. If your shoulder feels a little tight, try foam rolling the latissimus dorsi (back muscle) as this muscle is responsible for assisting with the motion of the serve as well as extending the arms.

Continue Learning about Volleyball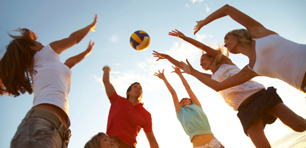 Volleyball is a team sport that involves cardiovascular endurance, agility, and hand-eye-coordination. Lateral movements, foot speed, and hip rotation are all important skills to possess. Proper elbow and knee-pads can help limit ...
injuries.
More