Prior to practice, you should foam roll the tight areas in order to prime the muscle. You will then perform an aerobic or dynamic warm-up. Beginning your activity by using the treadmill or bike for an aerobic warm-up is great for breaking a sweat, but this can worsen the tight areas. Show up a few minutes early to practice, foam roll first, then use the treadmill or begin your warm-up with the team. After practice, foam roll tight areas again and incorporate static stretching for tight muscles to reset muscle lengths and keep you performing optimally.
Continue Learning about Volleyball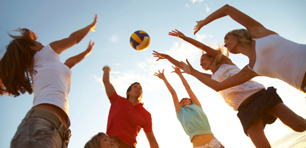 Volleyball is a team sport that involves cardiovascular endurance, agility, and hand-eye-coordination. Lateral movements, foot speed, and hip rotation are all important skills to possess. Proper elbow and knee-pads can help limit ...
injuries.
More