As a result of the side-to-side, front-to-back, as well as rotational movement seen in volleyball, core strength exercises are important. After completing your foam rolling and warm-up I suggest beginning with a bicycle crunch lying on a mat (perform 10 repetitions), followed immediately by a ball crunch with rotation (perform 15 repetitions). Next, using a stable bench or Roman chair, perform a low back extension for 10 repetitions, followed immediately by a ball low back extension with rotation for 15 repetitions. These exercises will not only help you with strengthening the many muscles of the core, they will help you with maintaining both strength and power late in your matches.

Continue Learning about Volleyball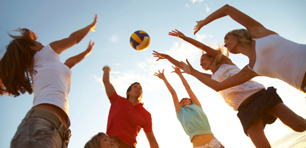 Volleyball is a team sport that involves cardiovascular endurance, agility, and hand-eye-coordination. Lateral movements, foot speed, and hip rotation are all important skills to possess. Proper elbow and knee-pads can help limit ...
injuries.
More