Shoulder strength in volleyball players is essential not only for their overall performance but injury prevention as well. However, I believe that shoulder strength in setters, outside hitters, as well as middle hitters would be more vital during a rally than a libero. The libero position is a highly specialized position that requires a great deal of lateral movement, core strength and lower body flexibility. During a long rally it is not uncommon for the libero to start in a semi- squatting position, move laterally for a ball, dive for a ball, get up and either pass or set a ball to the front line. This would require a great deal of core stability and lower body strength and flexibility.
While shoulder strength is key to a volleyball player, evaluating, strengthening and improving ones flexibility in the kinetic chain (energy is transferred from the ground up through the body) below the shoulder will not only add strength and stability to the shoulder it will prepare you for the long rallies.
If you are still interseted in shoulder exercises please let me know or see one of my other answer submissions.
Absolutely. More specifically, increasing shoulder endurance for a volleyball libero will pay great dividends especially during times when rallies exceed 30-40 seconds. As this happens, your body will need to take in more oxygen in order to supply your shoulders with the energy they need to set, pass, and extend the arm during a play-saving dive.
Continue Learning about Volleyball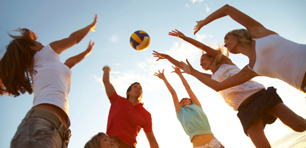 Volleyball is a team sport that involves cardiovascular endurance, agility, and hand-eye-coordination. Lateral movements, foot speed, and hip rotation are all important skills to possess. Proper elbow and knee-pads can help limit ...
injuries.
More