Shoulder strength and stability are extremely important when trying to place the volleyball efficiently and accurately. Many volleyball players have experienced a situation late in a match when the arms and shoulders are heavy and burning. At this point it becomes more difficult to control your placement. To decrease this fatigue effect, try combining some endurance shoulder work followed by hitting placement drills. Perform a series of exercises which combine stable, traditional strength movements followed immediately by unstable movements for the same muscle groups, in this case the shoulders. Begin with a machine shoulder press followed immediately by a single-leg dumbbell lateral raise. To perform this exercise, stand on one leg with dumbbells at your side, then raise the arms with the palms down ending at shoulder height. Because your goal is to improve shoulder strength and endurance you should use a medium tempo for three sets of 8-12 repetitions on the stable movement and a slow tempo for three sets of 12-20 repetitions on the unstable movement. Once you have completed these exercises have your performance coach or teammate toss you a ball to spike or hit. You can repeat this drill for two to three sets, but don't overdo it as many injuries can occur when you are over tired.
Continue Learning about Volleyball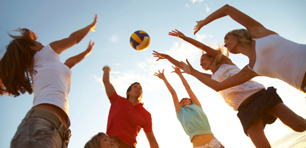 Volleyball is a team sport that involves cardiovascular endurance, agility, and hand-eye-coordination. Lateral movements, foot speed, and hip rotation are all important skills to possess. Proper elbow and knee-pads can help limit ...
injuries.
More