The ability to slow your body down and stop takes great decelerating strength and lots of practice. In order for you to improve on this you need to remind the body that it is not made to just produce force (jumping, pushing, and pulling). There are a few great exercises that can help. One is a box jump-down. To begin performing the box jump-down, stand on top of a plyo box or exercise step of the appropriate height in an athletic position. Elevating one foot slightly, descend off the box onto the floor sinking into a semi-squat position. Hold this position for three seconds, turn around, step back up on the box, and repeat for two to three sets of 10 to 15 repetitions. Another great exercise for improving deceleration is a stop-start drill. Have a teammate or other partner blow a whistle at random intervals. Once the whistle is blown, begin a side-to-side shuffle until they blow it a second time. At this point, stop as quickly and abruptly as possible and repeat for three to four sets. This will have great carry-over into your sport, greatly improving your starting and stopping speed. You can also complete the stop-start drill moving in a front-to-back direction for additional sets.
Continue Learning about Volleyball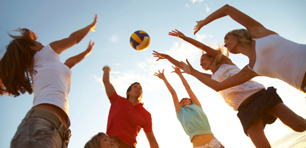 Volleyball is a team sport that involves cardiovascular endurance, agility, and hand-eye-coordination. Lateral movements, foot speed, and hip rotation are all important skills to possess. Proper elbow and knee-pads can help limit ...
injuries.
More