Tightness in the neck and upper back can lead to headaches. Make sure to begin with a warm-up using a foam roll to loosen up the tight muscles around the upper back. Then follow this with light static stretching of the side of your neck, holding the stretch for thirty seconds on each side. Next, repeat your normal workout using moderate weight followed by another session of foam rolling and stretching at the end. This should help return your muscles to normal length leaving you headache free. If the headaches persist make an appointment to see you physician.
Continue Learning about Volleyball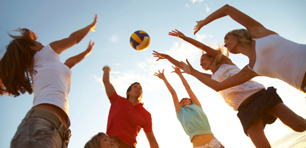 Volleyball is a team sport that involves cardiovascular endurance, agility, and hand-eye-coordination. Lateral movements, foot speed, and hip rotation are all important skills to possess. Proper elbow and knee-pads can help limit ...
injuries.
More