To prevent this situation from happening use zone training. This style of endurance training requires you to progress from low intensities (a comfortable jog) all the way to high intensities (a slightly uncomfortable sprint). Performing zone training a few days per week will allow your body to get better at controlling the lactic acid production as well as the burning sensation you are experiencing during volleyball matches. The burning sensation is a byproduct of the muscles contracting called lactic acid.

Continue Learning about Volleyball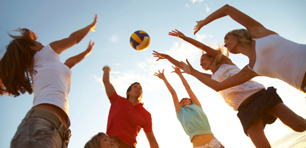 Volleyball is a team sport that involves cardiovascular endurance, agility, and hand-eye-coordination. Lateral movements, foot speed, and hip rotation are all important skills to possess. Proper elbow and knee-pads can help limit ...
injuries.
More