Avoid extra plyometric training during the season, when practice intensities are high and tournaments are occurring every week. Excessive jumping, over and above what you are already doing, may result in increased stress or injury. In-season, athletes engaging a good amount of playing time should limit their plyometric activity to 1-2 times per week, keeping the focus on lower intensity exercises and landing mechanics. Off-season, after a recovery time, is a great time to progressively advance into more strenuous and demanding plyometric activity, tapering off as you move into your pre-season. In the off-season, focus on plyometric activity 2-3 times per week, with optimal rest in between training days. When moving into pre-season, reduce your plyometric training to 1-2 days, focusing on technique and mechanics, rather than power outputs.
Continue Learning about Volleyball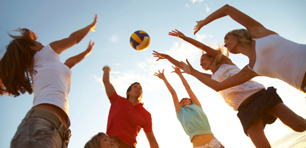 Volleyball is a team sport that involves cardiovascular endurance, agility, and hand-eye-coordination. Lateral movements, foot speed, and hip rotation are all important skills to possess. Proper elbow and knee-pads can help limit ...
injuries.
More