The human body was designed to produce force, reduce force, and dynamically stabilize the whole body in all planes of motion. People do not move about with robot-like movement, the athlete moves front-to-back (as in running), side-to-side (lunging for a spike to the right or left) and rotation (turning to run for a pass or spike). Remember, these are movements that dominate your sport and need to be performed during your training program.
Continue Learning about Volleyball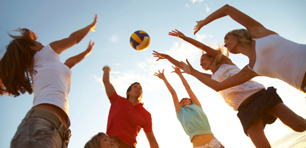 Volleyball is a team sport that involves cardiovascular endurance, agility, and hand-eye-coordination. Lateral movements, foot speed, and hip rotation are all important skills to possess. Proper elbow and knee-pads can help limit ...
injuries.
More