There are some great exercises that will require you to move in all three planes of motion: front-to-back, side-to-side, and rotationally. Begin with a single-leg forward hop to balance. Standing on one leg with the belly button drawn in, move into a semi-squat position on the standing leg and swing the free leg through, hopping in the forward direction and landing on the opposite leg. Hold the landing for three seconds then repeat on the other side. Next, perform the lateral hop to balance. Repeat the same mechanics as in the first exercise, however, this time you will hop from side-to-side, again holding the landings for three seconds. Last, perform a rotational hop to balance. This exercise is the same as the previous two examples, except you will rotate one-quarter turn toward the side you are hopping. Perform these exercises for two to three sets of ten to twelve repetitions. These exercises will help you become more stable in all three planes of motion making you less prone to injury as well as a more sound and explosive volleyball player.
Continue Learning about Volleyball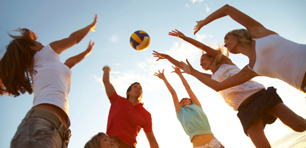 Volleyball is a team sport that involves cardiovascular endurance, agility, and hand-eye-coordination. Lateral movements, foot speed, and hip rotation are all important skills to possess. Proper elbow and knee-pads can help limit ...
injuries.
More