Changing levels is anytime your belly button moves up or down such as during a lunge, a jump serve, or a dive. When a volleyball player moves toward an explosive serve and then dives in order to attend to the ball, these movements would be considered a change in level. Your performance program should consist of level change exercises in order to create optimum carry-over to the court or sand.
Continue Learning about Volleyball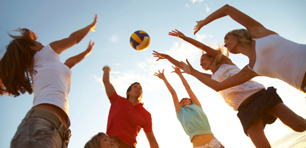 Volleyball is a team sport that involves cardiovascular endurance, agility, and hand-eye-coordination. Lateral movements, foot speed, and hip rotation are all important skills to possess. Proper elbow and knee-pads can help limit ...
injuries.
More