You can increase upper-body power for use in volleyball by combining a stable strength movement followed immediately by an explosive power movement for the same muscle group. Begin with a standing dumbbell shoulder press with the palms facing in, followed by heavy bag punching. The first exercise should be performed with a medium tempo for 1-5 repetitions and the second exercise for 8-10 repetitions with a fast tempo with good technique.

Continue Learning about Volleyball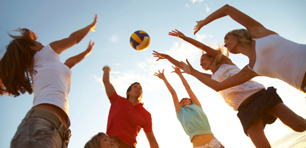 Volleyball is a team sport that involves cardiovascular endurance, agility, and hand-eye-coordination. Lateral movements, foot speed, and hip rotation are all important skills to possess. Proper elbow and knee-pads can help limit ...
injuries.
More