Since a float serve in volleyball does not require you to jump, core stabilization, shoulder stability, and shoulder strength are all important components that will help you increase the speed and power of your serve. Perform two to three core stabilization exercises followed by a balance drill and two to three shoulder strength movements. Planks, bridges, and ball crunches are all great for the core musculature. Next, try performing the actual float serve while being unstable such as on a single leg or standing on a balance disc. This will really help engage the core muscles, hips, and back. You should then perform two to three shoulder strength movements such as a machine shoulder press, standing dumbbell press, and a lateral dumbbell raise. Complete four sets of five repetitions of these shoulder strength exercises. Not only will this sequence help with shoulder strength, but focusing on the core muscles will allow you to use your shoulders more effectively during the serve.
Continue Learning about Volleyball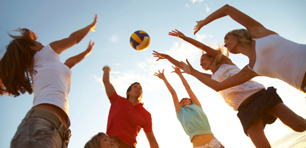 Volleyball is a team sport that involves cardiovascular endurance, agility, and hand-eye-coordination. Lateral movements, foot speed, and hip rotation are all important skills to possess. Proper elbow and knee-pads can help limit ...
injuries.
More