Absolutely. Quick motion at the shoulder is key for firing the hand over the top of the volleyball to create top spin. Try beginning with a standing dumbbell shoulder press with the palms facing in, followed by heavy bag punching. The first exercise should be performed with a medium tempo for 1-5 repetitions and the second for 8-10 repetitions with a tempo that is as fast as possible with good technique. Perform these exercises two to three times per week and watch your serving speed sore.
Continue Learning about Volleyball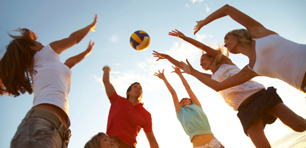 Volleyball is a team sport that involves cardiovascular endurance, agility, and hand-eye-coordination. Lateral movements, foot speed, and hip rotation are all important skills to possess. Proper elbow and knee-pads can help limit ...
injuries.
More