Power, stabilization, and strength are key components for the sport of volleyball. Focusing only on power and neglecting the components of stabilization (training the smaller muscles that help keep the joints stable) and strength may hinder your ability to generate power effectively. In order for you to become a more effective volleyball player it is important to focus on all three components, not just power.

Continue Learning about Volleyball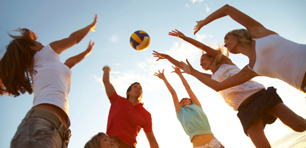 Volleyball is a team sport that involves cardiovascular endurance, agility, and hand-eye-coordination. Lateral movements, foot speed, and hip rotation are all important skills to possess. Proper elbow and knee-pads can help limit ...
injuries.
More