Improving your leg strength improve your hitting, however, if you lack any strength and stability of the core muscles your overall transfer of power will be limited at the trunk as you are only as strong as your weakest link. Although it is very important to use exercises to strengthen the legs, focusing on the entire body will provide better cumulative results. Volleyball is not just about hitting, it requires you to run, cut, turn, rotate, and dive. Keeping this in mind is important when designing a training program. Your program can focus leg strength, but should also include core, balance, and plyometric exercises in order to be able to use that newly acquired strength effectively. Neglecting these other areas may cause you to be too leg dominant resulting in decreased performance and unwanted injury.
Continue Learning about Volleyball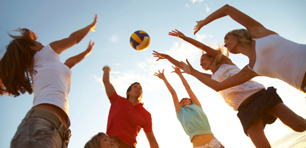 Volleyball is a team sport that involves cardiovascular endurance, agility, and hand-eye-coordination. Lateral movements, foot speed, and hip rotation are all important skills to possess. Proper elbow and knee-pads can help limit ...
injuries.
More