You need to choose exercises that involve the same muscle groups, in the same order sequence, and at the same speed. For example, a serve and spike require you to first contract the core, followed by bending the hip, knees and ankles, and then finally extending up through the back and arms for the explosive smash of the ball past the defender. Combine a medicine ball squat push immediately followed by an explosive box jump with good technique. Then perform one exercise for each of the major muscle groups such as a push-up (chest), recline pull-up (back), seated ball shoulder press, a squat (legs), and finish with planks (core).
Continue Learning about Volleyball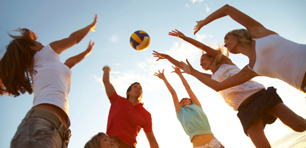 Volleyball is a team sport that involves cardiovascular endurance, agility, and hand-eye-coordination. Lateral movements, foot speed, and hip rotation are all important skills to possess. Proper elbow and knee-pads can help limit ...
injuries.
More