Sport loading, which involves attaching some type of resistance to you such as a parachute or tubing, can improve acceleration to the volleyball if done correctly. Try attaching some resistance tubing to your waist and/ or shoulders. This can easily be done by sliding the handled end of some resistance tubing through a weight belt, then putting the belt on. Once this is complete, attach the looped end of the tubing to a stable surface such as a post or tree. With the tube in the back of you, it is important to come forward until you feel some resistance. Get in an athletic stance, sprint forward with good technique, get into a passing or setting position, and then return to the start with control. The resistance tubing will tug you back, so be careful during the return. During exercises such as this, you should only use a resistance that allows you to keep good technique as heavy loads will disrupt form and can hinder your performance.
Continue Learning about Volleyball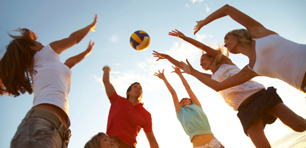 Volleyball is a team sport that involves cardiovascular endurance, agility, and hand-eye-coordination. Lateral movements, foot speed, and hip rotation are all important skills to possess. Proper elbow and knee-pads can help limit ...
injuries.
More