The best way to improve speed, agility, and quickness and the efficiency of your side-to-side (lateral) movement is to simply move side-to-side and do it often. Lateral movement, such as when a middle blocker quickly lunges left in order to pop a ball up, happens every play in volleyball. The ability for you to sit low in an athletic stance, engage your core muscles, and shift your body in the direction of the play quickly and efficiently is no simple task. Perform lateral movement skills each and every practice to improve the effectiveness of this particular movement. When exercising, add in exercises that focus on side-to-side movements like side lunges, side-to-side tube walking, and side-to-side squat jumps.
Continue Learning about Volleyball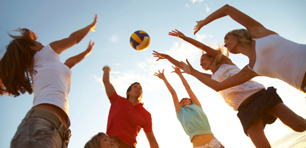 Volleyball is a team sport that involves cardiovascular endurance, agility, and hand-eye-coordination. Lateral movements, foot speed, and hip rotation are all important skills to possess. Proper elbow and knee-pads can help limit ...
injuries.
More